Gender Studies Minor
---
On this page…
---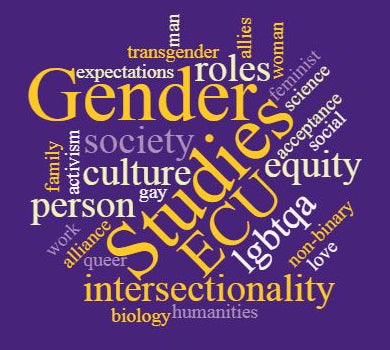 Gender Studies is an interdisciplinary, academic program in which students complete 18 hours of courses focused on women, gender, and/or sexuality from departments across campus.  Through your coursework, you learn how gender shapes lived experiences, both in the past and present, and how knowledge is produced across disciplinary boundaries. The resulting skills and perspectives not only enrich your academic program but help prepare you for a wide variety of careers including those in the health professions, social services, non-profits and advocacy organizations, research, journalism, law, and many others.
---
Gender Studies Minor Curriculum
The Gender Studies minor comprises a 6 semester-hour core, a course that introduces you to the discipline, and a capstone course that helps you synthesize what you have learned, plus 12 semester hours of electives.
Core (6 hours)

GENS 2400: Introduction to Gender Studies
GENS 4000: Topics in Women's and/or Gender Studies

Electives (12 hours)
The flexible structure makes it possible to coordinate the Gender Studies minor with almost any major and enables students to select the areas within Gender Studies of most interest to them. Plus, many of the courses carry General Education credit and up to 6 hours of relevant major coursework can count in the minor!
---
Create Your Own Curriculum
The program's flexibility means that you can craft a Gender Studies minor that reflects your interests, whether it is a focus on women and their contributions, LGBTQ+ topics, cross-cultural & intersectional perspectives, or gender more generally. All approaches can fit within the curriculum.
Interested in the Gender Studies Minor? Please contact and make an appointment with the Dr. Susan Pearce.